TARBERT : OUR CASTLE OF KINGS
Community Archaeological Dig 2019

On This Page
LATEST

Summer 2019 Community Excavation - our Final Report & Evaluation for the project's principal funder Heritage Lottery Fund Scotland

RECENT

Summer 2019 Community Excavation - our archaeologist's full Draft Report now available to read on this website.
LESS RECENT

Confirmed: An eastern entrance!
Found: A Slightly (!) Used Coin from the Reign of Mary, Queen of Scots.
Final Education Report
Community Dig - a Post-Event Update
Archaeologist's Excavation Reports - Weeks 1, 2, 3, and 4
Dig Videos - "Day One" & "Week One: The First 8 Days"
Community Dig Progress Mini-Reports (May/June 2019) - read them on Facebook
Some Background to our Community Dig
List of Key Documents

---
LATEST
"OUR CASTLE OF KINGS" SUMMER 2019 COMMUNITY EXCAVATION - FINAL REPORT AND EVALUATION
To read our final report to the project's principal funder, Heritage Lottery Fund Scotland, click here.
---
RECENT
OUR ARCHAEOLOGIST'S DRAFT REPORT ON THE SUMMER 2019 COMMUNITY EXCAVATION
For details, see the full draft document here.

---
LESS RECENT
CASTLE EASTERN ENTRANCE CONFIRMED
For details, see our Summer 2020 Newsletter.

---
BIG COMMUNITY DIG UNCOVERS A MARY, QUEEN OF SCOTS, COIN
During recent analysis of finds from the 2019 community excavation at Tarbert Castle, experts identified one of the items as a coin minted in the reign of Mary, Queen of Scots (1542-1587).
To give the coin its technical description, it's a copper billon lion/hardhead which would have been issued during the period 1559-1560, and which marked the marriage, in 1558, of Queen Mary and Francis (Francois), Dauphin* of France.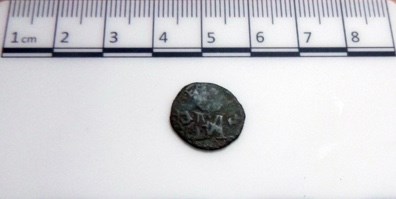 The obverse (principal side) of the coin features a crown over an "FM" monogram, with two flanking dolphins facing left. On the reverse is a crowned lion rampant facing left.
The coin bears also a countermark - of the crest of the Earl of Morton, that being a star within a heart - signifying that the coin was legal tender.
Such coins, valued at 1½ pence, were made of billon (base metal mixed with a small amount of silver). They contained just over 4% silver and almost 96% copper.
The low silver content, in what was meant to be silver coinage but was often not silver in colour - combined with their often crude appearance - made such coins a tempting target for counterfeiters.
Counterfeiting was a serious crime in Scotland, and available penalties included being hanged, drawn, and quartered, or being strangled and then burned at the stake.
Around that time, counterfeiting was often carried out abroad, and, in 1567, Andrew Murray, a resident of Perth, and Patrick Ramsay, a resident of Dundee, were executed for importing fake hardheads.
The counterfeiting problem became so great that, in 1575, an Act of Parliament ordered that all hardheads be brought into the mint for inspection. Those deemed genuine were to be countermarked with the heart and star of the Earl of Morton, who as the Regent of Scotland, ruled the country, at that time, on behalf of the nine-year-old James VI.
The Tarbert example was found in ploughsoil excavated from one of the trenches opened, within the confines of the castle, at an early stage in the 2019 Community Dig.
-o-0-o-
Robert McPhail, of Tarbert Castle Trust, said: "We had hoped to exhibit a number of the finds from last summer's big community dig by showing them, from this Easter onwards, within the Tarbert Life heritage centre in Harbour Street in the village, and to include the Mary and Francis coin in that collection. Regrettably, our good intentions have been thwarted, for the time being, by the COVID-19 crisis. We look forward to reviving our display plans once the crisis abates".
The Big Community Dig took place over May and June 2019, and was led by professional archaeologist Roddy Regan, with the invaluable and indefatigable support of volunteers from Tarbert and beyond. In addition, and playing a crucial role, Kilmartin Museum's education team managed working visits to the excavation by large groups of enthusiastic young people from schools in Kintyre and Knapdale, and a great weekend was organised by Tarbert Guides.
*Dauphin of France (Dauphin de France) - The heir apparent to the throne of France.
-o-0-o-
We are grateful to archaeologist Roddy for the foregoing coin report and the accompanying photograph.

---
FINAL EDUCATION REPORT
Click here to read the in-depth report prepared by our partners Kilmartin House Museum.

---
COMMUNITY DIG - A POST-EVENT UPDATE
Our big community dig is complete, apart from some backfilling and some removal of excess stone, and those will be attended to imminently.
The dig exceeded our objectives, with more volunteers and young people involved than planned.
Not only did we have finds of medieval pottery, etc., but we also exposed the previously undiscovered and unrecorded main entrance from the west, with dressed stone reveals showing an opening some 3m wide, a door check, and a portcullis slot.
This entrance must have been imposing, given that it would have been approached by a ramp, with the older castle to the right and King Robert the Bruce's tower to the left. And there would have been an archway over, with a compartment above to allow the portcullis to be raised.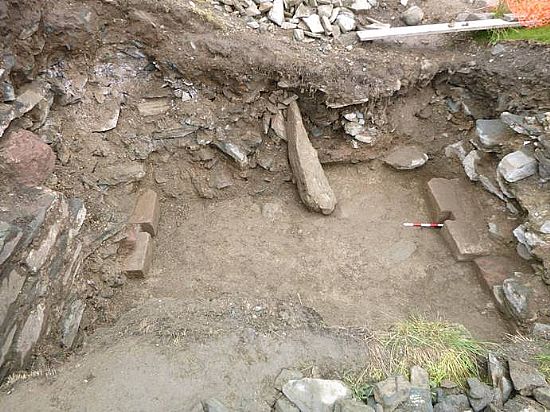 Above: Entrance excavation showing, to the righthand side, the door check and the portcullis slot
During the dig, the weather was great, and, apart from having to abandon the site one day at lunchtime due to midges, every programmed day saw enthusiastic, if sometimes very heavy, work by volunteers and our professional archaeologist Roddy Regan.
Kilmartin Museum's education team managed large groups of young people from schools in Kintyre and Knapdale, and a great weekend was organised by Tarbert Guides.
In a feedback program by the education team, return visits will be made to the schools.
We wish to record our thanks to ALL those involved, including funders, and I think we can safely say that it was enjoyed by everyone who took part.
Archaeologist Roddy will now take time to prepare, study, and, where required, seek expert advice on the finds and features which were discovered and their significance in the castle's story.
The final report will be published early in 2020, and will be available to download through this website, i.e. tarbertcastle.info.
Tarbert Castle Trust will assess how best to interpret the results for the benefit of visitors, and we're very pleased to report that the directors of Tarbert & Skipness Community Trust have agreed that, where possible, finds will be displayed in the new "Tarbert Life" heritage centre in Harbour Street, right in the heart of the village.

---
AS IT HAPPENED
Click here to go back and read the progress mini-reports which were added to our Facebook page during the dig - (opens in a new window)

---
ARCHAEOLOGIST'S EXCAVATION REPORTS
COMMUNITY DIG | WEEK FOUR
Click here to view - (opens in a new window)
COMMUNITY DIG | WEEK THREE
Click here to view - (opens in a new window)
COMMUNITY DIG | WEEK TWO
Click here to view - (opens in a new window)
COMMUNITY DIG | WEEK ONE
Click here to view - (opens in a new window)

DIG VIDEOS
COMMUNITY DIG | WEEK ONE - THE FIRST 8 DAYS
Click here to view on YouTube - (opens in a new window)
COMMUNITY DIG | DAY ONE
Click here to view on YouTube - (opens in a new window)


---
SOME BACKGROUND
The Royal Castle of Tarbert is "a scheduled monument of national importance", community-owned since 2004, and now a heritage park, open to the public, 24 hours a day and 7 days a week.
Over the intervening years, some £1m has been donated or sourced from numerous grant-giving organisations which, together with many hundreds of hours of volunteer time, has been invested in consolidating the ruins, clearing the site, interpreting the structures, and opening up public access.
Volunteers, including families and young people, have a maintenance programme in place, with regular working parties supported by the community and part of the village community plan.
In 2013, a detailed desk-based historical investigation and non-invasive survey of the monument was carried out, guided by archaeologist Roderick Regan, with the participation of community volunteers. This documented evidence forms the basis of the current proposals for further archaeological investigation.
Subsequently, Tarbert Castle Trust commissioned Roderick Regan to take this exploration further by preparing a detailed project design in discussion with Historic Environment Scotland, with the proposal that an archaeological dig be carried out with a number of partner organisations, including Kilmartin House Museum and local schools, to achieve the following broad aims:-
To investigate the ruined structures further and add to recorded information currently available, including early beginnings of a fort on the site
To train and involve community volunteers in the techniques of archaeological investigation
To introduce young people to historical research and archaeology, through local schools and visiting youth groups
To add information to existing site interpretation for the benefit of the wider public who, as visitors to the area, now access the site in increasing numbers
We're confident that this further exploration of our community asset will:-
benefit those who participate directly, both adult and young people
increase community respect for our local heritage
add to the accumulated historical record of our castle's royal history
Over the weekend 30 June - 1 July 2018, a party of volunteers, led, trained, and supervised by Roderick Regan, carried out a preliminary dig on recreational land at Bruce Hill, adjacent to the castle grounds, for the purpose of investigating ancient occupation of the area around the castle. After the dig, Roderick Regan compiled a community excavation report, detailing the action taken and the results achieved.
Here's our December 2018 poster explaining how Co-op members can fundraise for the 2019 Community Dig. If you click on the image, a full-size version will open for you:-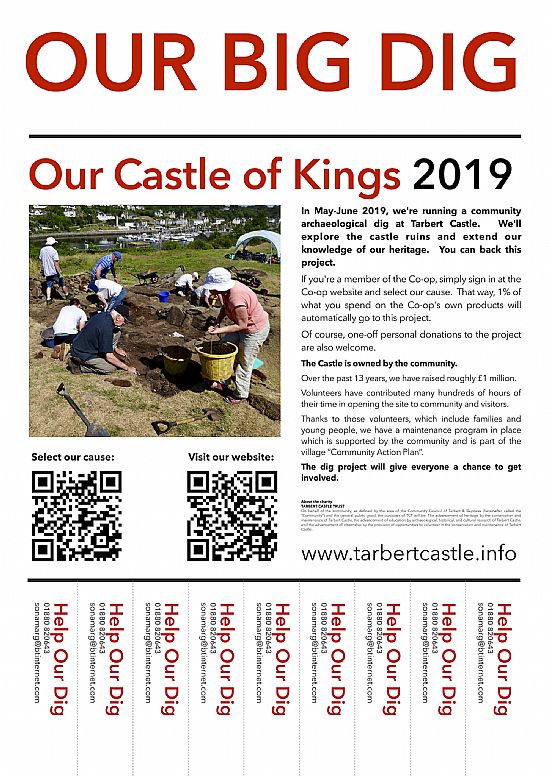 ---

Key Documents
---