>>> WEBSITE WORK IN PROGRESS <<<
Timeline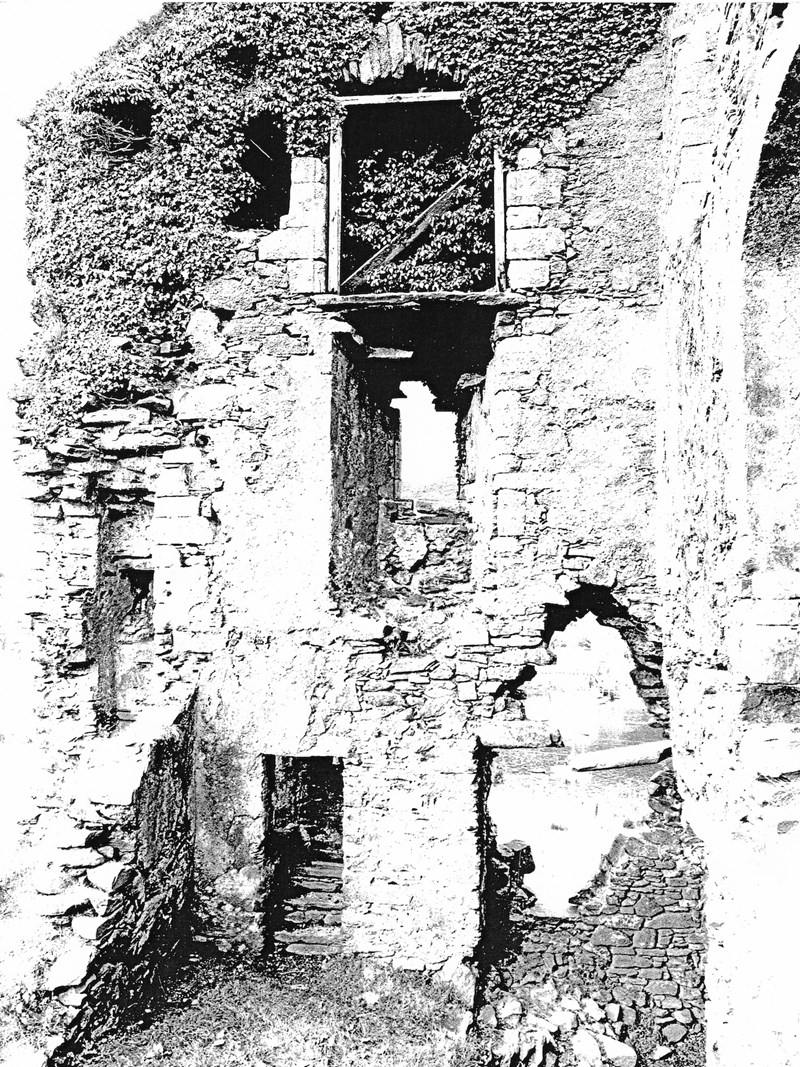 Late 1950s to late 1980s:
Various individuals in the Tarbert community contacted government departments and ministers in the Scottish Office, attempting to drive forward action to repair and make safe the ruins of Tarbert castle. Despite meetings and letters acknowledging the importance of the castle, little action was forthcoming.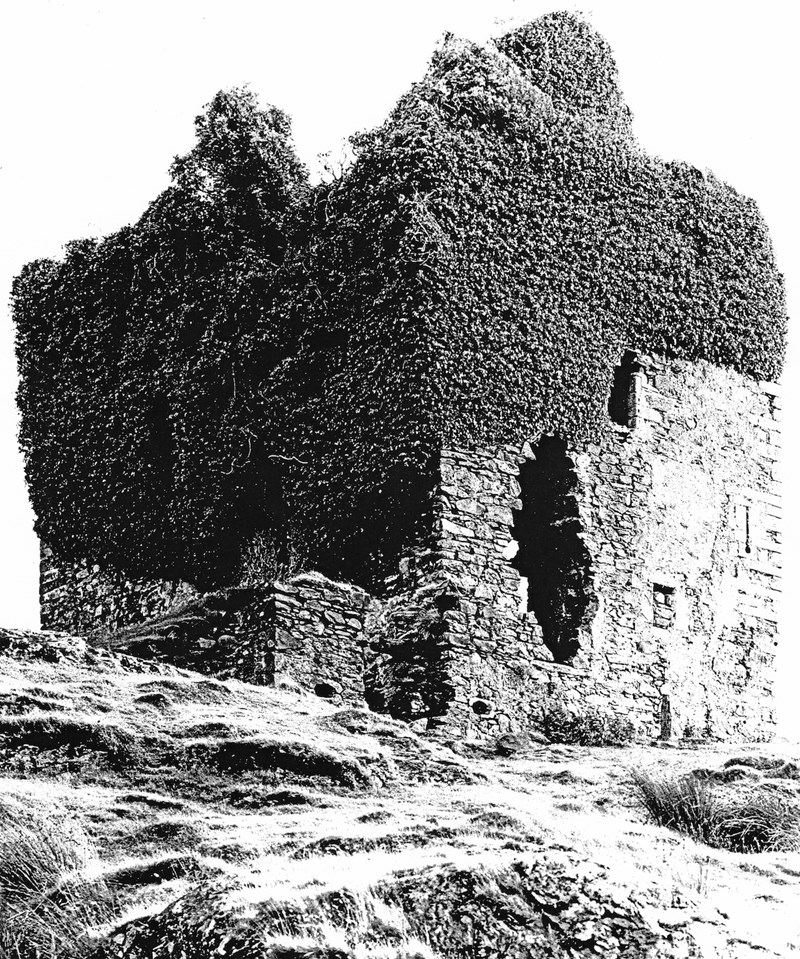 Late 1980:
Public meetings were convened locally, which pushed forward the need for the community to take action themselves, and a steering group was formed.
1990:
A Limited Company Trust was registered, and action started to produce a brochure trying to raise funds. Information signs were installed, naming features around the castle ruins.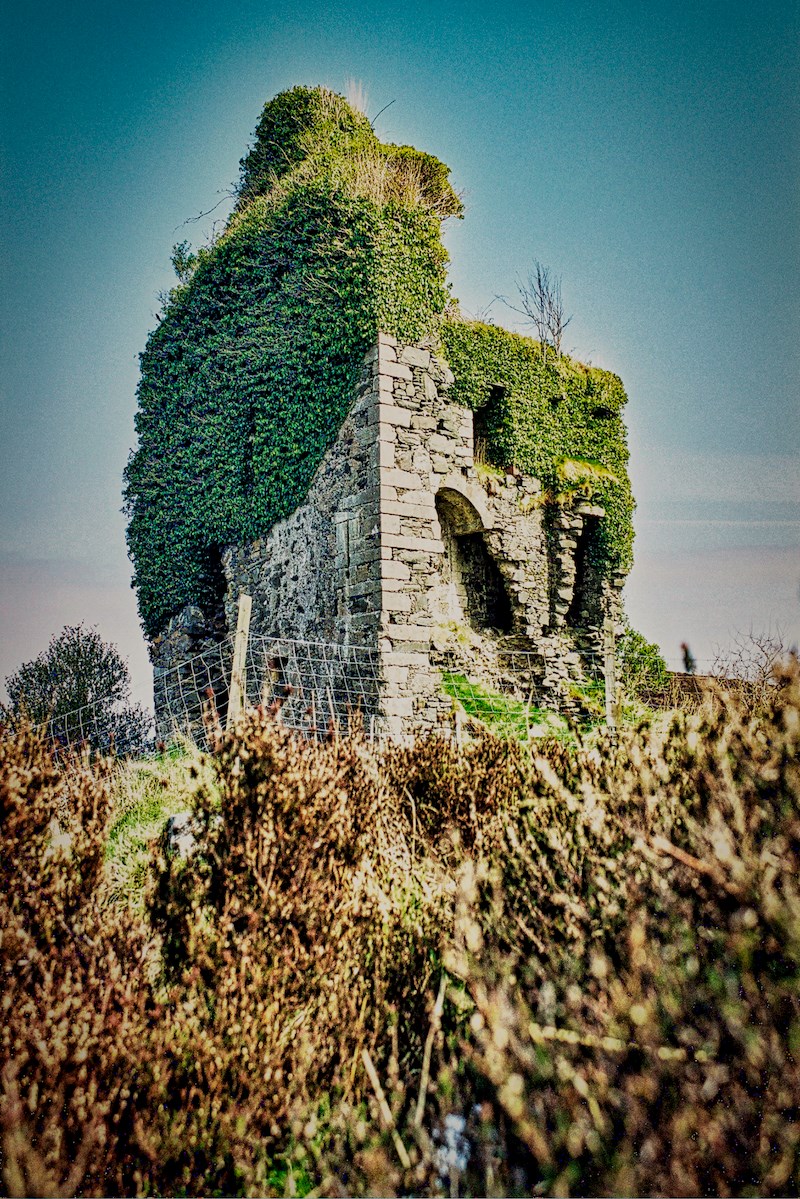 1990 to 2005:
A great amount of work was carried out trying to raise funds initially to achieve a feasibility study by experts. Grants were applied for, but major support was not forthcoming. During this period, the group took over ownership of the castle, but the lack of support led to action slowing. The ruins were becoming less stable, with alien vegetation taking over the site, and the Tower House propped and fenced off due to its dangerous condition.
2005:
Tarbert and Skipness Community Trust (TSCT) approached the remaining group representatives and they agreed to hand over the Castle to the Community Trust, including an area within the scheduled site owned by a group member and £1000 in residual funds.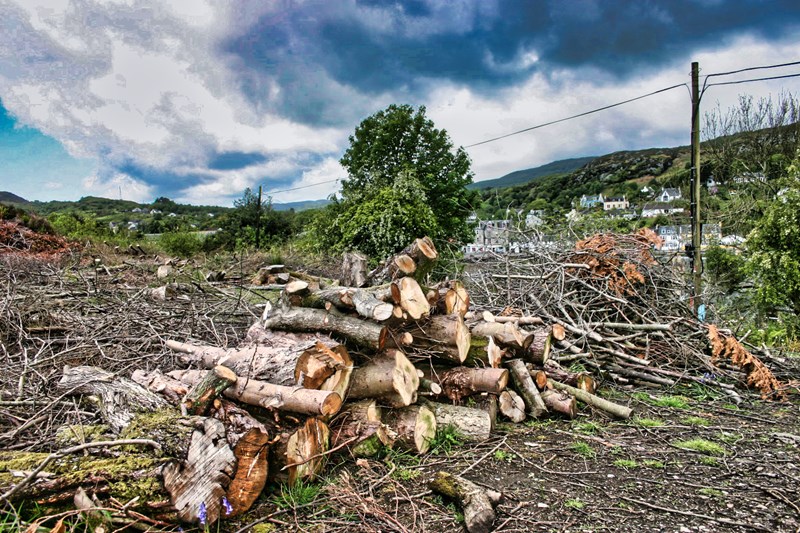 2006:
TSCT decided that, as previous approaches to authorities who should have been responsible together with grant organizations had received little or no support, a strategy was developed to take action locally. Tarbert Conservation Initiative (TCI) was formed to achieve a volunteer group willing to carry out work on the ground. Volunteers started clearing vegetation at regular work parties, after Scheduled Monument (SM) consents were applied for and received.
The Castle itself is a Scheduled Monument (ref. SM276), as is the surrounding ground (ref. SM3410), and anything which is done on the site must receive a consent.
Urgent work was carried out to improve access, and the strategically significant Kintyre Way opening ceremony was hosted at the Castle.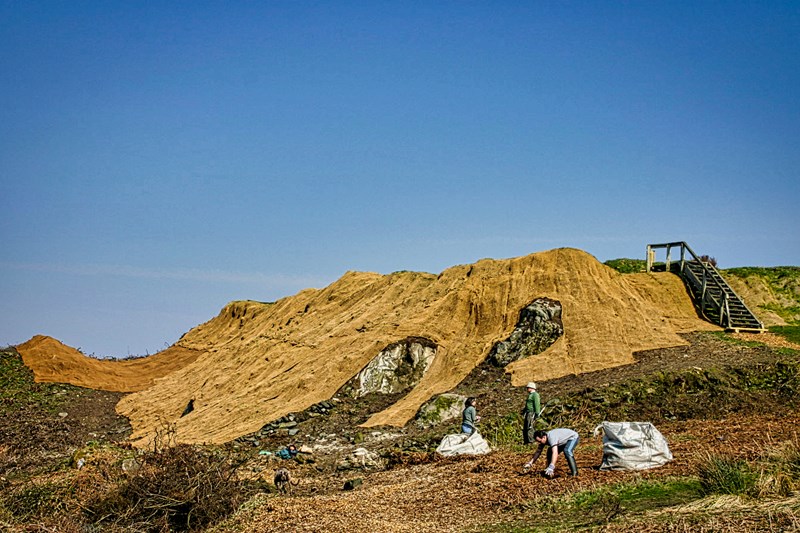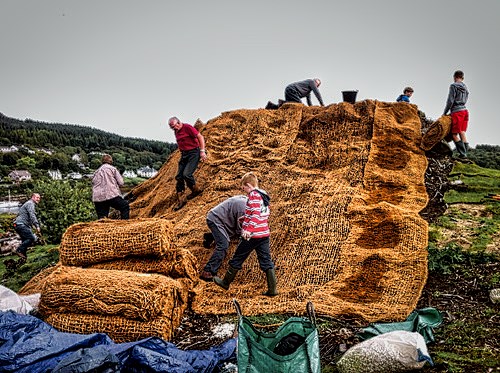 2007:
When vegetation was stripped from the ruins, a biodegradable matting was secured to keep soil in place until sown grass took hold. This represented an affirmation of our strategy, when Historic Scotland became engaged requesting and funding this protective work.
Tarbert Academy's drama group performed "The Scottish Play" before a local audience of some two hundred residents, who were seated on the banks surrounding the inner bailey.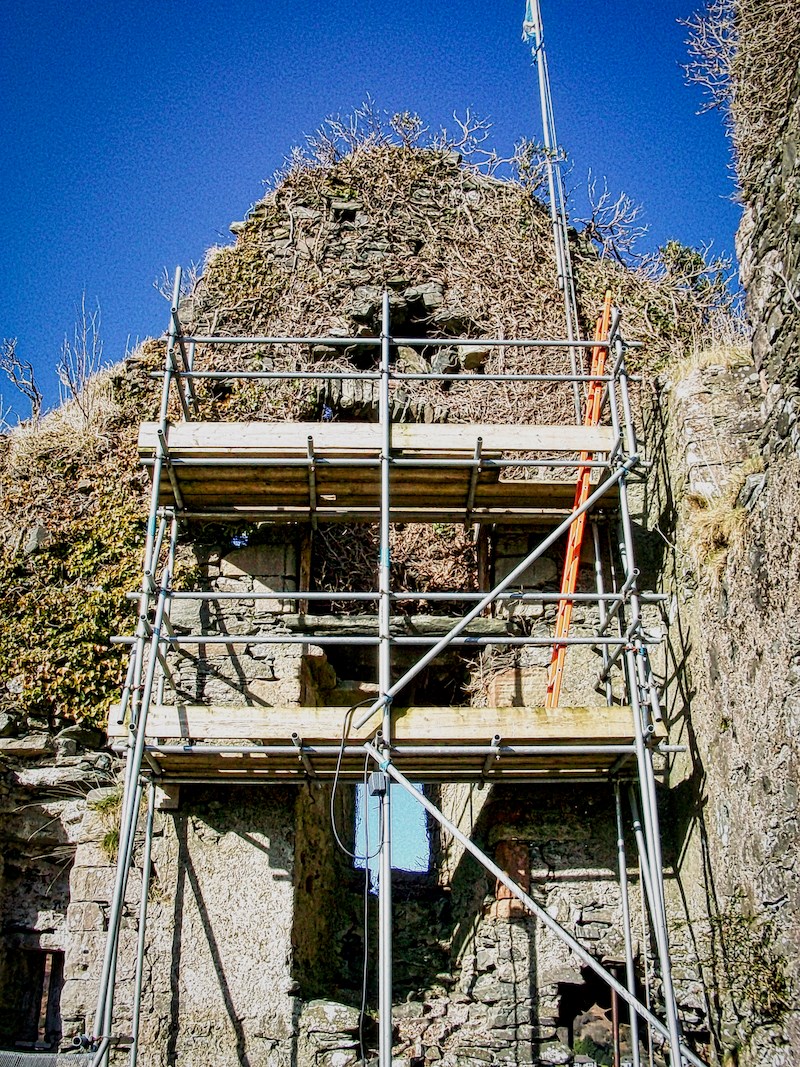 2008:
Temporary support of the Tower House structure, with scaffolding, helped improve stability to prevent imminent complete collapse.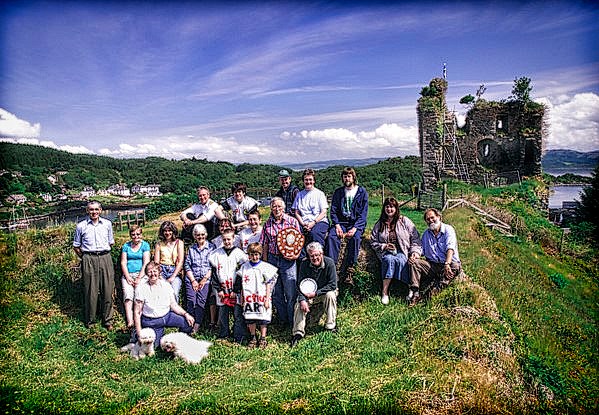 The Castle volunteers received the Argyll & Bute "Volunteers of the Year" award.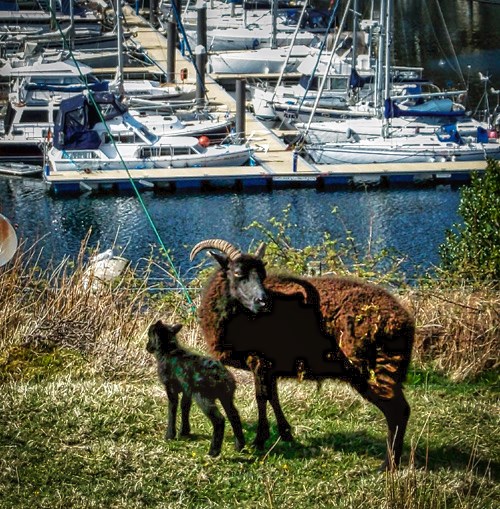 2009:
With site clearance approaching completion, fencing the site with gate accesses commenced, to start plans for future maintenance with grazing. The land was registered as an agricultural holding ref. no. 154/0041.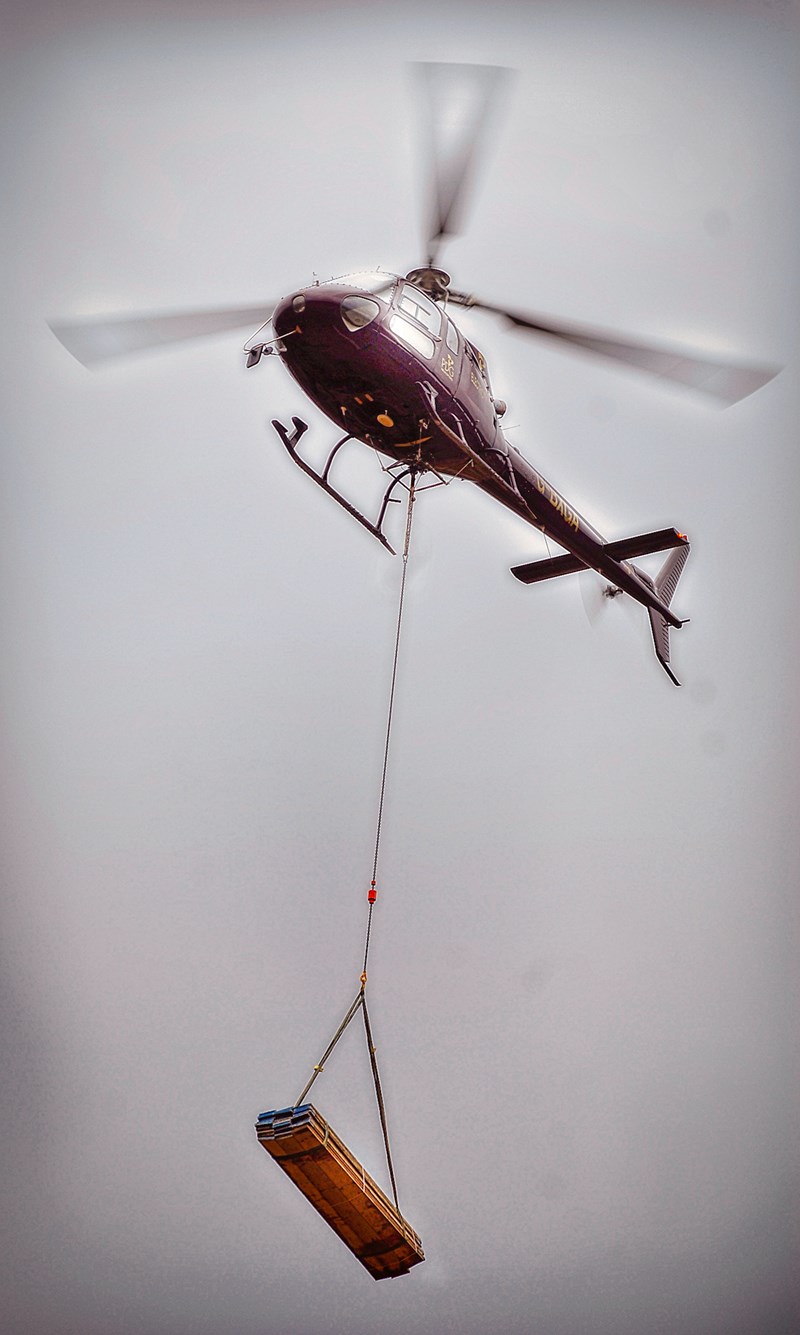 2009 to 2012:
While normal maintenance and further clearance continued, a major plan to consolidate the Tower House structure at a cost of £750,000 was commenced.
Local organizations and individuals provided loans of £100,000 required as cash flow as grants were paid in retrospect, month by month, as the 3-year on-site contract commenced.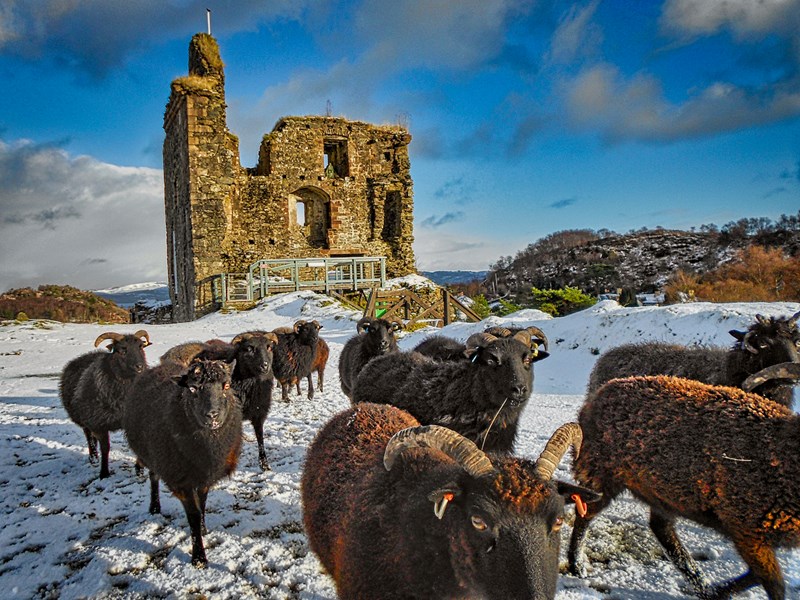 2010:
Community Hebridean sheep were introduced to the site, to provide conservation of the now grass covered areas. Web site www.tarbertcastle.info was established.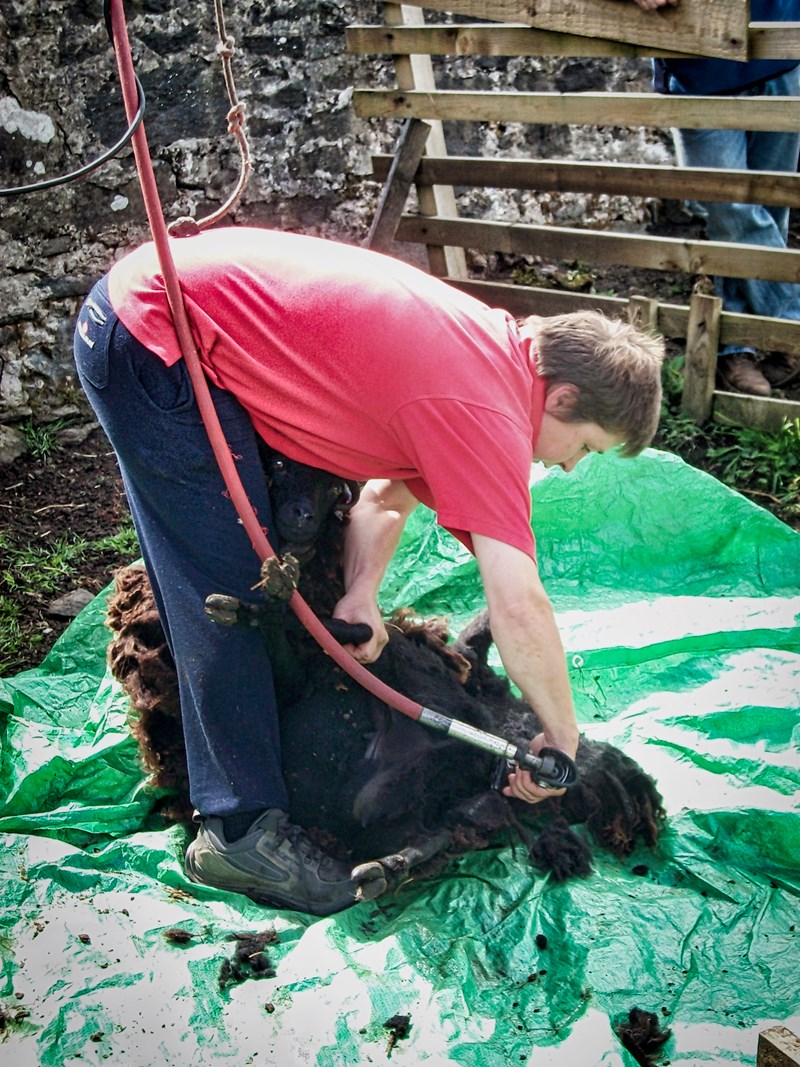 A spinning group was formed, to make use of our Hebridean sheared wool.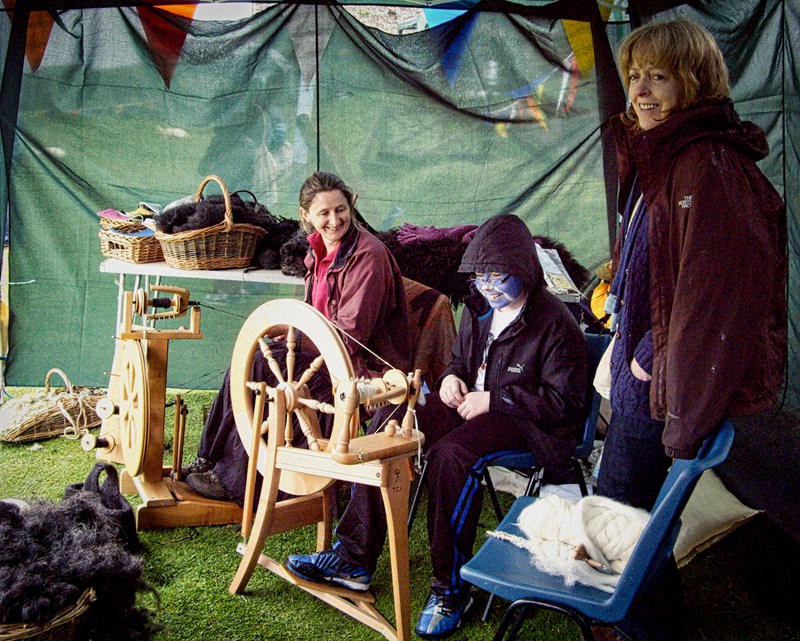 2011:
Volunteers installed flood lighting around the Tower House.
2012:
Loans were repaid to the community lenders, and a new organisation - Tarbert Castle Trust (TCT), a SCIO - was formed to take over the Castle, to ensure its security in community ownership. The TCI volunteers, together with their tools and equipment, were absorbed into this organisation. Those volunteers, as well as continuing on site operations, play a major role in future developments. Interpretation panels were permanently installed, with small signage around the site naming visible features. It was becoming obvious that visitor numbers were increasing and, for the first time, these were monitored with people counters, which recorded 15,000 that year.
2013:
The community-owned area includes marshy ground to the south east, behind the Scheduled site, and volunteer work commenced on the reclamation of this by creating a Community Woodland, which includes a wildlife pond creating diverse habitats. In preparation for future archaeological exploration, Roddy Regan, our consultant archaeologist, prepared a desk-based assessment of known facts about the castle, and a full non-invasive survey of the site. This document can be downloaded from the Archaeology page of this website.
In celebration of the Castle being open and accessible for residents and visitors, we held a "Medieval Melee", providing a day's entertainment for some 350 residents and visitors of all ages.
2014:
The Community Woodland was established, with 700 trees planted, paths formed, and picnic tables installed, all accessed via gates from the Castle area itself. Tarbert Academy junior pupils began using the woodland area for "forest school" activities.
2015:
Castle access paths were created and improved, including a board walk across marshy ground, creating a circular walk around the castle and the woodland.
2016:
Woodland sculptures were added to the woodland, and a further 100 trees planted. We started working with Tarbert Academy, giving children experience in outdoor work, and this has developed into providing the practical activity for Rural Skills courses within the secondary pupils' curriculum.
2017:
Plans for a Community Orchard on remaining land behind the Castle were prepared and implemented, with some 200 fruit-producing trees and shrubs planted on not inconsiderable works to deer fence site, create raised beds with ditches between.
Having applied to Historic Scotland for permission, we at last received a consent, on safety grounds, to construct a new path, up and over the hill, on the main access route.
2018:
We were planning a major archaeological dig in 2019 and carried out a trial dig just outside the castle boundary in Bruce Hill. This was vey successful provided preliminary training for volunteers and revealed evidence of medieval occupation of the area.
To improve the visitor experience and encourage donations, we constructed a distinctive and sympathetic new canopy over the arrival gateway from Harbour Street below.
2019:
OUR CASTLE OF KINGS community archaeological dig designed and supervised by Roddy Regan our consultant archaeologist and a children's program of involvement organized by Kilmartin Museum education team.
52 volunteers and 250 children took part from schools in Kintyre and Knapdale. Full details of the dig outcomes are available on Archaeological page on www.tarbertcastle.info
A record of numbers visiting the site showed a 300% increase since 2012 at 46,000 during the year.
2020:
A further small community dig was carried out to successfully to confirm the location of an Eastern entrance to the castle on a similar scale to the previously unrecorded major Western entrance found during last years dig.
Despite the limitations on volunteers during Covid 19 Interpretation on site was updated and additional panels installed below a new shelter canopy to increase the visitor experience.
A new path is planned in the woodland and further trees planted.