The Royal Castle of Tarbert
The earliest stone structure on this site dates from the 13th century, possibly earlier.
The fortification guarded the anchorage below in the bay, and controlled the land link between Tarbert's East and West Lochs.
In 1292, it was certainly a Royal Castle, being among those granted to John Balliol by Edward I of England. In 1325, Robert the Bruce enlarged and fortified the Castle, with the extensive curtain wall and drum towers enclosing almost two acres.
Surviving building accounts record, among other structures, a hall, a chapel, houses, workshops, a brewhouse and, outside the wall, a mill and mill lade.
The Tarbert Castle accounts which were prepared for Robert the Bruce are some of the oldest documents in the Exchequer Rolls of Scotland. Below is a partial translation, the original having been written in Latin.
Settlement with Robert cimentarius (mason) for work on the walls of the Castle at Tarbert £282.15.0
To the same, by the King's grace, because in the Kings absence he made the walls wider than the agreed contract £5.6.8
Purchase of 1ch. Meal & 1ch. Barley issued to the said Robert by contract in the 1st quarter of the year £3.4.0
To John the mason work on castle walls £28.7.8
To the same, part settlement for construction of new peel at Tarbert West £4.0.0
To burning 760ch. Lime between Whitsunday 1325 and St john's Nativity at 10marks per chalder ; witnessed by Robert and Adam masons £50.0.0
To 2 men carrying lime from kiln to castle by sea and land, 29 weeks 3 days. 28th April - 11 Nov 25@ 4/- Settlement per weeks, aqnd 5 men as above @3/4d £13.15.2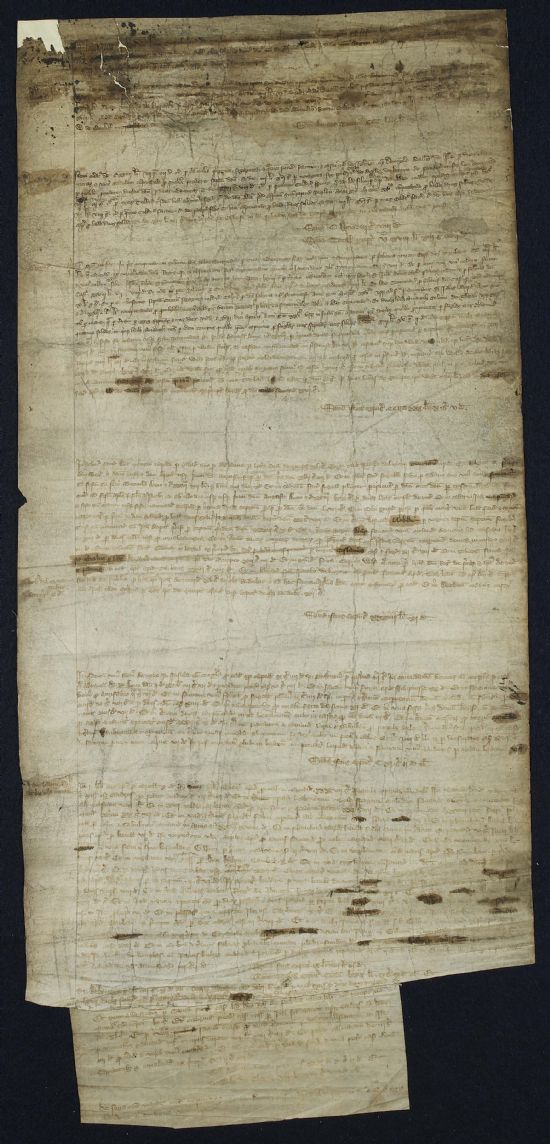 IMAGE OF ORIGINAL ACCOUNTS, FOR TARBERT CASTLE RECONSTRUCTION BY
ROBERT THE BRUCE, HELD IN THE EXCHEQUER ROLLS FOR SCOTLAND
In 1494, James IV, requiring a strong base for his operations in the Western Isles, repaired the Castle and built the Tower House. He brought artillery, victualled and garrisoned the Castle, and summoned Parliament to meet in Tarbert.
The Castle continued its royal connections, but, by the beginning of the 18th century, was a ruin.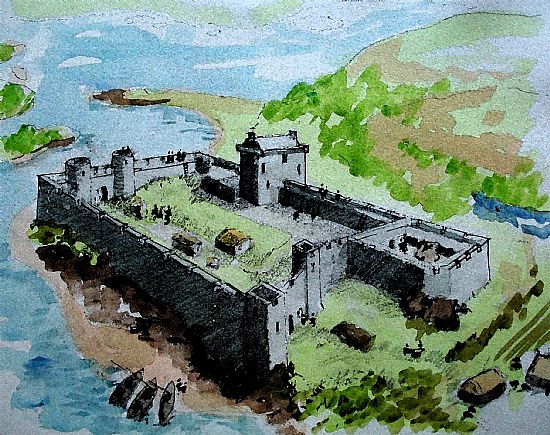 The Castle, as we have long believed that it might have looked in approximately the 15th century (Illustration by Robert McPhail FRIAS)
In 1705, the McAlister family of Tarbert tenanted the Castle under charter from the Campbells, but, in 1760, the Castle fell into disrepair, leading to most of the useful stone being robbed to build the village and the harbour.
In recent times, supported by Historic Scotland and the Scottish Government, the ruins have been stabilised and the site opened up for public access by local volunteers.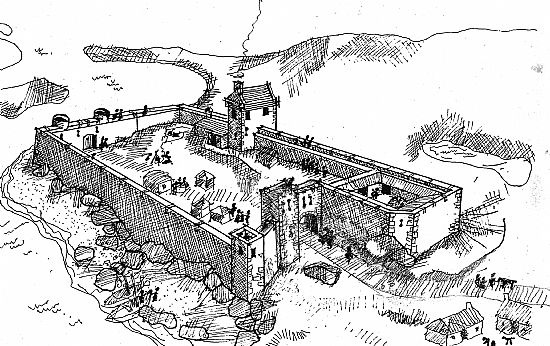 The Castle, as we currently (August 2019) believe that it might have looked in or about the 15th century (Illustration by Robert McPhail FRIAS)

Further Reading:-
The Royal Castle of Tarbert - The Story of One of Scotland's Largest Castles and its Royal Connections (Published by Tarbert Castle Trust (TCT), £5.00 + P&P, all funds to support Castle maintenance. E-mail us via the "Contact Us" page of this website)
The Royal Commission on the Ancient and Historical Monuments of Scotland (www.rcahms.gov.uk)
The Buildings of Scotland - Argyll and Bute (Frank Arneil Walker)
The Castellated and Domestic Architecture of Scotland (MacGibbon and Ross)